Cenon CAM 4.1
Rottenburg, 2017-04-26
| | | |
| --- | --- | --- |
| | | The Release 4.1 is another mile stone for Cenon CAM. This major Upgrade brings the long awaited Run-Time Panel, plus several other key features and improvements. |
Cenon is the leading Manufacturing Software for Apple computers - a state-of-the-art software-tool for manufacturing, which enjoys continuous development since it's debut in 1992. Today, Cenon is at home in most industries and helps manufacturing pretty much everything from airplanes to musical instruments.
Overview of the key novelties coming with this release:
Run-Time Panel / Output Statistics
Scroll-Zoom
Diagnostics-Tool for Bezier-Curves
Many improvements of usage and machining
Run-Time Panel / Output Statistics
The Run-Time panel calculates and displays the expected machining times. During output the remaining and actual times are continuously updated.
The panel can be applied to optimize the machining times, as well as to estimate the costs for manufacturing a job.
The times are displayed per layer and in total; they are especially exact for the CNC-Controllers of vhf (in many cases up to a couple of seconds).
The image (right) shows a Run-Time Panel in the middle of the output: the layer "Contour" is currently being machined, red color displays the remaining time of the layers to process, green color displays the actual time (up to the current output position, or of the last completed output).
Scroll-Zoom
On top of the existing zoom functions, Cenon now allows the direct zoom at the cursor position. You can now use the scroll-wheel or touch to zoom in and out at any desired location of your graphics.
The image (right) shows the arrow cursor at the eye of a horse (crest of the city of Stuttgart), in several zoom stages of 5%. The position of the eye stays centered at the cursor location.
Diagnostics-Tool for Bezier-Curves
If the gradient of connecting curves is changing to abruptly, machines are not able to continue smoothly and may react with a reduced speed or even choking. If such a "hick-up" happens, this often leaves a mark along the cutting edge of the workpiece.
To avoid this reduced quality, it is crucial to maintain smooth connections between bezier curves, however even connecting angles of as much as 5° are invisible to the naked eye.
Cenon displays problematic curve connections (of joined curves) in red color. If you drag such a vertex point, it will snap to the tangent of the connecting curve.
Many improvements of usage and machining
Copying of selected graphic objects to another layer, improved DXF-Import, tool radius compensation to the right and left of open objects, etc.
What's new in Version 4.1 ?
New: Run-Time Panel / Output Statistics
New: Zoom with Scroll-Wheel
New: Diagnostics-Tool for Bezier-Curves
New: Webs within groups, and webs for individual Lines and Curves
New: copy entire layer, copy selected objects to another layer
DXF-Import: SPLINEs and more
tool compensation to right and left for open/un-filled objects
Improved communication with CNC-Controller
Contour-Fill and Pick-Out further improved
Display Output with grayscale for countersinks and threads
many more detail improvements
and much more
The complete list of changes are found in the Change-Log 4.1


Cenon is productive since 1992




List of images:
Run-Time Panel / Statistics [167KB]
Scroll Zoom Vertical [123KB]
Scroll Zoom Horicontal [75KB]
Curve Join [12KB]
Curve Join [94KB]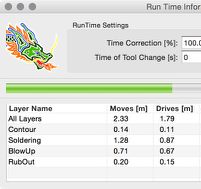 Run-Time Panel / Output-Statistics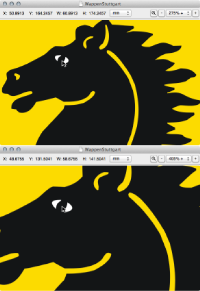 Scroll Zoom
Curve Diagnostics in theory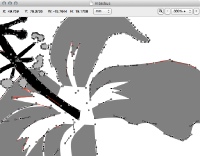 practical Curve-Diagnostics

Click on an image to zoom in.