Cenon CAM 3.9.6
Ammerbuch, 2012-03-01
| | | |
| --- | --- | --- |
| | | The Release 3.9.6 of Cenon, the manufacturing software for Mac, is there. The release should have been a maintanance release, however, there are so many valuable improvements, that a closer look is needed. Above everything else, we have to focus at the enormous improvements of the Pick-Out Engraving. |
Cenon is the leading manufacturing software for Apple Computers. On this platform, Cenon is enjoying a constantly growing popularity.
The new release 3.9.6 brings some new features, but even more important for a serious manufacturing tool are the improvements of details. There are also a couple of minor bug fixes. The update from version 3.9 to 3.9.6 can be downloaded via the Update Panel of Cenon, which is available since version 3.9.3.
Engraving with Pick-Out in focus
The Pick-Out is an advanced engraving technique which is applying a conical engraving tool. Depending on the immersion depth of this tool, varying widths of engravings are achieved. This way, by adjusting the depth, it becomes possible to engrave even the most delicate details. Version 3.9.6 of Cenon comes up with strong improvements for the Pick-Out, especially:

Step-wise Pick-Out. The desired immersion depth can be approached in multiple steps, allowing very deep Pick-Out engravings.
Display Mode, which displays the effective width of the conical cutter. With the help of this display, the expected results becomes visible at the screen already.
separate calculation of Pick-Out and Filling.
What's new in release 3.9.6 ?
New Pick-Out: Display Tool Diameter with conical Tool, now displays true tool width. Especially with Pick Out the display closely matches the engraving result.
New, Pick-Out, Output: Stepwise cutting of 3-D Lines added
New, Pick-Out with Fill Angle: Standard Filling supports Angle
Pick-Out with Filling: better to use, useless tool-change removed
DXF-Import: added transformation of coordinates from Object- to World-coordinate system
Optimize Moves: output is updated reliably
Fix, PS-Import: files with special characters improved
TIFF-Export: save images
Camera+Targeting: camera-window cannot be larger than resolution of camera-image
Fix, Camera+Targeting: offset of camera cannot violate machine area any more
Fix, Camera+Targeting: removed unnecessary move to Camera-Marker before/after Cutting
The complete list of changes are found in the Change-Log 3.9


Cenon is productive since 1992




List of Images:
deep engraving with Pick-Out [385KB]
deep engraving with Pick-Out, tool-tracks on screen [201KB]
original graphic on screen [135KB]
tool-paths with effective tool diameter displayed on screen [143KB]
Size-comparison with a pencil [340KB]
Size-comparison with a one Cent coin [307KB]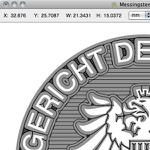 Before and After, stepwise Pick-Out on the screen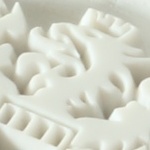 and the result.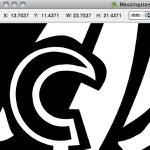 the original graphics on screen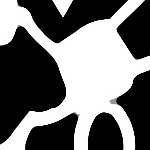 and the preview with effective tool widths
an almost perfect match!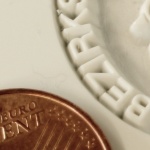 Comparing Sizes h

Click on an image to zoom in.