Cenon CAM 3.9.0
Ammerbuch, 2009-06-08

18 months of development and more than 50 considerable improvements - Version 3.9.0 of the Design- and Manufacturing Software Cenon is now available... and a lot has happened...
This release gives its users no less than three new trump cards in the hands.
Faster Machining and better Quality with Angular Approach
Relief Output of all elements with color shading
Optional: Automatic Machining via Camera+Targeting
All in all, the new release of Cenon CAM comes up with about 50 considerable improvements. With these, the already good quality of Cenon was able to take another leap ahead.

Angular Approach

Implemented in familiar Cenon-style, this feature is easy to use and needs only a single input field to set the approach angle. The approach is done by spiraling down along the contour of the path, without interruption and without changing the cutting speed unnecessarily. This results not only in faster machining, but also in more beautiful cuts, as ugly dipping marks disappear. Additionally the tool is unburdened and may stay longer. In the end this feature saves both, time and money !


Relief Output of Color Shadings

A practical alternative to the time-consuming 3-D design is the relief function of Cenon. Now, the relief can be used with all Color Shadings, also of vector graphics! Be it ornaments in furniture making, or beveling and tapering whereever needed, this relief-function can do more.


Camera+Targeting

This new option accelerates the production of large lots in a spectacular way. The parts are roughly placed onto the machine, the vaccum is turned on, one marking is moved into view - Camera+Targeting does the rest. Now start the output and the machining fits perfectly transformed onto the work-piece. Very easy to use by three buttons only!
Applications are for example in sign-making the cutting of printed advertisement banners, and in industry the machining of screen-printed front-panels or membrane keyboards.
Further Information on automatic gauging

What is new in Version 3.9.0 ?
New Option: Camera+Targeting with transformation of the output to the work-piece
New: Angular Approach for smooth dipping with adjustable angle for all closed graphic elements
New: Relief-Output for all color Shadings (Vector and Bitmap), horizontal and vertical
New: Pick-Out also on raster images (Scans)
Pick-Out function improved strongly
Contour-Filling and Standard Filling further perfected
Step-wise machining of single open elements much faster
New: Project-Settings (Settings like unit of measurement per Document)
Editing functions further improved
Many improvements of the Import functions
Support of more image formats like" JPG, GIF, PNG
All in all, more than 50 major improvements
The complete list of Improvements can be found in the Change Log 3.9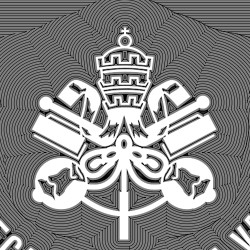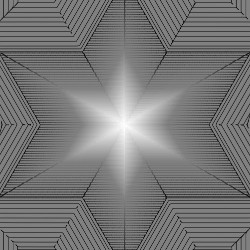 Output-Paths for Pick-Out and Relief.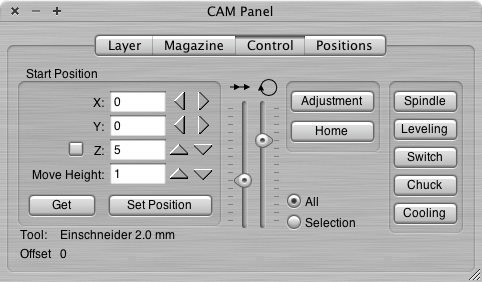 The Apple Interface of Cenon (here with a metal theme).
List of Images:
Pickout-Example in full quality [116KB]
Pickout-Example Eagle in full quality [653KB]
Relief-Example in full Quality [116KB]
CAM-Panel [68KB]