Cenon Features
Cenon is a universal manufacturing software and accompanies it's users from the Design (or Import), via the Pre-Production process, to the control of the machine.
Cenon drives machines with 2 1/2 and 3 axis. A 4th axis may be added as a tangential axis. The X or Y axis can be replaced by a circular axis.
Cenon unfolds it's full potential with all machines and tool plotters that allow Direct Numeric Control (DNC). Even without DNC, Cenon is still a one of it's kind pre-manufacturing tool.
The mayor platform of Cenon is Apple Mac OS X.
Import
---
Import of SVG, DXF, HPGL, PostScript (PS and EPS), PDF, Adobe Illustrator 3, Gerber, Drill-Data (Sieb&Meyer, Excellon, ...), ...
Import of raster images (TIFF, GIF, JPG, PNG, etc.)
Automatic seperation of colors to layers
Automatic join of paths
Import of text lists in ASCII format for mass production
Export
---
Export of DXF, HPGL, PostScript (PS und EPS), PDF, Extended Gerber, ...
NC Files (G-Code or HPGL derivates)
...
Graphics and Editing
---
Lines, bezier curves, arcs, rectangles, Poly-Lines, etc.
Threads, Countersinks, Webs, Drill-Markers
Complex paths with the ability to join, punch etc.
Multi line text with rich text attributes (RTF)
Use of Adobe Type 1 Fonts, True Type Fonts, and others
Graphic inspectors
Functions for alignment of graphic elements
Multi level Undo and Redo
Scroll-Zoom, Area Zoom, and Zoom stages
...
CAM Functions
---
Serial-numbers
Placement of Drills and other elements on intersections of vectors
Special functions for effective serial production
Random mix function
Rapid Prototyping of Printed Circuit Boards (Option)
Flexible Automation: custom defined Panel for (Option)
...
Pre-Production (turning Graphics into Output)
---
Tool radius compensation (inline, outline, right, left)
Inlays
Engraving with Pick-Out (Carving) as well as carving of raised objects (V-Carve)
Standard- and Contourfill
Output generation directly from raster images without previous vektor to raster convesion.
Output optimization
Batch Production
Real-Time output calculation and re-calculation of modifications
Preview of output
Run-Time Calculation of Machining Times (real-time)
Choice of Vector and Raster algorithms
Camera+Targeting for automatic work-piece recognition [Option]

automatic measuring of working pieces and transformation of output, can be used to correct imprecisions of print-outs in large-scale advertisements, etc.
automatic recognition of position and rotation of working pieces
Corner-Recognition of material like front panels
Recognition of Position and Rotaion after flippig over of a working piece
all features supported in batch production, too

...
Tool Management
---
Comfortable tool management using tool magazines
Assignment of tools to layers
Adjusting of tool parameters (feed, revolution, etc.) during output
...
Manufacturing
---
Full interactive Control of machining directly from Cenon (no need to export/import NC files)
Alternative: output of NC-Data to file, and manufacturing from a Machine Terminal
Interpolation of up to 3 axis, including circular axis
configurable switching options (for example for cooling, suction, flooding, moisture)
Milling, engraving, drilling, plotting, cutting, Pocketing, etc.
Thread cutting, Countersinks, Webs/Bridges, ...
Stepwise machining, Smoothing, ...
Position memory for different starting points (e. g. for different fixing attachments)
Output to machines of most manufacturers supporting ISO/DIN 66025 (G-Codes), Gerber NGC, and HPGL derivates (also plotters and cutting plotters)
support of Tangential cutter on 4th axis
support of circular axis as X or Y axis
iPad App to control the machine
...

Cenon - productive since 1992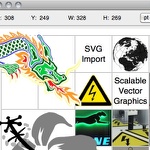 Scalable Vector Graphics (SVG)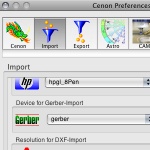 Import Variety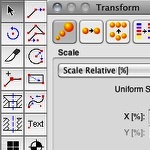 Editing Tools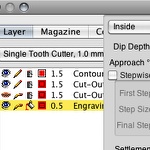 Pre-Production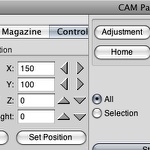 Output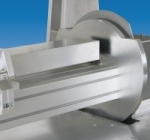 Rotation axis as 4. axis